Mental Health Stigma – Depression and Anxiety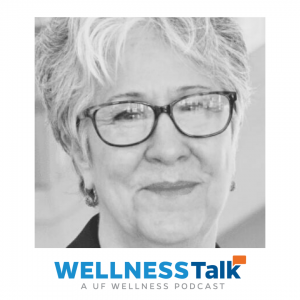 In this Wellness Talk episode, Catherine Striley, Ph.D., joins us to discuss mental health awareness and the stigma associated with mental health as it relates to depression and anxiety.
Striley is a psychiatric epidemiologist and associate professor at the UF Department of Epidemiology. She received a Master of Social Work in 1989 and a doctorate in philosophy in social work from the Brown School at Washington University in St. Louis in 2002. She also holds a Master of Science in Epidemiology from the Washington University School of Medicine. As part of her research, she aims to increase recognition of the need for health screening, mental health and behavioral health services, and to decrease barriers to those services. Striley has experience in community-engaged research, including recruitment and retention of diverse community members, and in drug use, abuse and misuse epidemiology.
RELEVANT RESOURCES:
Help us improve our program! Completing this short evaluation survey to provide feedback about your experiences with the program, or to suggest future Wellness Talk episodes.