Creating and Sustaining Healthy Habits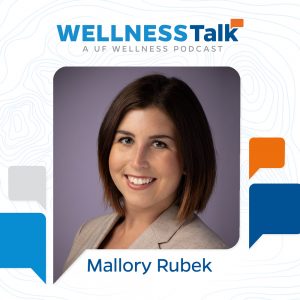 In this Wellness Talk episode, we talked with GatorCare Wellness Manager Mallory Rubek about creating and sustaining healthy habits.
Rubek holds bachelor's and master's degrees in Health Education and Behavior from UF and is a Certified Health Education Specialist and a Certified Mental Health First Aid Instructor.
GatorCare and the UFHR Wellness program often collaborate with the aim of providing UF and UF Health faculty and staff with a variety of wellness programs and resources.
Watch the video on Mediasite or listen to the podcast on Anchor!

RELEVANT RESOURCES:
Help us improve our program by completing the following short evaluation survey.
Mallory Rubek
Yusof Al-Wadei