Bluevember – Diabetes awareness, prevention, and access equity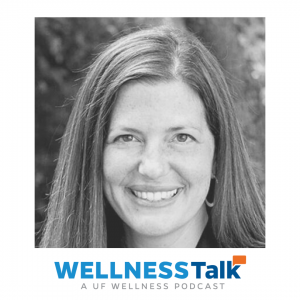 In this episode of Wellness Talk, and as part of American Diabetes Month, we talked with Dr. Ashby Walker about diabetes awareness, prevention and access equity.
Dr. Walker serves as the director for health equity initiatives at the UF Diabetes Institute. Her research as a medical sociologist focuses on Type 1 Diabetes and the role that social capital plays in determining health outcomes. Dr. Walker is an elected member of the American Diabetes Association National Health Disparities Committee and the Chronic Diseases & Conditions Priority Area Workgroup of the 2017–2021 Florida State Health Improvement Plan.
Every 23 seconds, another person in the U.S. is diagnosed with diabetes. An often "invisible" illness, diabetes affects 1 in 11 Americans and 86 million more are at risk for the disease. The University of Florida Diabetes Institute challenges you to "go blue" and turn November into "Bluevember" for diabetes awareness.
Watch the video on Mediasite or listen to the podcast on Anchor!
RELEVANT RESOURCES:
Help us improve our program by completing the following short evaluation survey.
Ashby Walker, Ph.D.
Yusof Al-Wadei