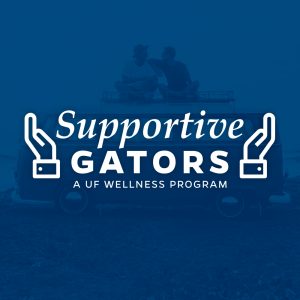 As social isolation and loneliness continue to rise in the U.S., related health outcomes have begun to worsen. Specifically, individuals' social, emotional, and mental wellness are negatively impacted due to increased social isolation and loneliness. One way to combat social isolation and loneliness is through social support.
The Supportive Gators workshop is designed to improve social, emotional, and mental health outcomes affected by social isolation and loneliness by empowering UF community members to strengthen their current social support networks and build new networks as needed. In the first portion, participants will learn what social support is and the types of social support. The second portion will include how social support impacts their health. In the third portion, participants will learn about resources to build new social connections and methods to strengthen existing social networks.
You can also discover kindred spirits and find opportunities to explore new interests by checking out our
Get Connected!
online directory, which features a variety of UF-sponsored and area affinity and interest groups.
Confidential emotional support is also available 24/7 through the UF Employee Assistance Program. If you or anyone in your household is struggling with loneliness or isolation, counseling is available at no cost by calling the EAP's toll-free number, (833) 306-0103.