Maintain, Don't Gain Campaign
Maintain, Don't Gain Campaign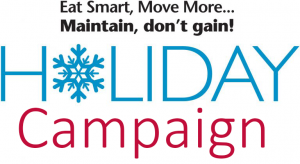 Maintain, Don't Gain This Holiday Season
Do you struggle with maintaining a healthy lifestyle during the holidays?
Many Americans gain between 1 and 5 pounds each holiday season. While it might not sound like much, most people never manage to lose those extra pounds. You are invited to join the 14th annual Eat Smart, Move More, Maintain, don't gain! Holiday Challenge. Rather than focusing on trying to lose weight, this FREE seven-week challenge provides you with strategies and resources to help maintain your weight throughout the holiday season.
This national program had more than 39,000 people participate last year from around the world. Now it's time for the 2020 Holiday Challenge!
The 2020 Maintain, Don't Gain Campaign: November 16 – December 31

Holiday Challenge Features
All Holiday Challenge features will be sent directly to your email inbox when the program begins. Holiday Challenge features include the following:
Weekly Newsletters
Daily Tips

Survive a holiday party
Manage holiday stress
Stay active during the winter

Weekly Challenges
Healthy holiday recipes
Support through social media as part of the national campaign
The National Eat Smart, Move More, Maintain, Don't Gain! Holiday Challenge was developed by professionals from North Carolina State University and the NC Division of Public Health. Based on the theory of planned behavior, the Maintain Don't Gain campaign is a self-guided weight management program that uses strategies proven to develop and support healthy lifestyle habits.