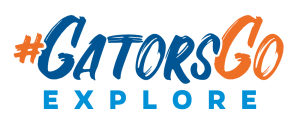 Regular physical activity can be difficult to manage, especially given today's hectic pace. Physical activity is proven to significantly decrease the probability of chronic illness development and has uplifting effects on emotional and mental health. The Physical Activity Guidelines for Americans recommend that adults should perform at least 150 minutes of moderate physical activity or 75 minutes of vigorous physical activity per week.
We've developed a walking map that covers most of UF's main campus in Gainesville to help you meet your recommended physical activity levels while on campus. The map provides 10 walking and running routes as well as one bicycling route, with each route color-coded.
Let's explore the campus together and add a nice refresher to our day!
Challenge Introduction
#GatorsGo Explore provides a comprehensive walking map that encompasses the vast majority of UF's main campus. The map provides 10 different routes for walking or running. An additional route is also available for bicycling enthusiasts.
To promote the new map, we are challenging faculty and staff to walk at least 5 routes and record themselves through a tracking app. Anyone who submits 5 screenshots of their walks will be entered into a drawing for a small gift card. All submissions must be emailed to hrs-wellness@ufl.edu by November 15, 2020.
Participants who work at UF or UF Health outside of Gainesville are encouraged to participate. Just download a tracking app, walk an equivalent distance at various routes near your location, and submit them to us!