Financial Literacy Series
Financial Literacy Series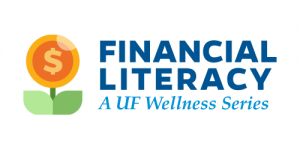 Your financial health can be improved by learning new habits, saving for retirement, reviewing your insurance, managing your credit and having a safety net. No matter what stage of life you're in, you can benefit from finding ways to support your financial health.
UFHR Wellness has partnered with several campus and community partners to bring together a series of workshops aimed at increasing financial literacy and developing healthier financial habits.
Join the Let's Talk Credit workshop and learn about credit and how it may help you reach your goals. Learn how credit works and how it can be used to help with your goals. See steps you can take that may help you establish and build credit. Discover steps you can take that may help you improve your credit and get your finances back on track. Get tips that may help you manage your credit effectively and put it to work for your goals. Learn what to consider when borrowing that may help you determine if a credit product is the right option for you.
---
You are invited to join us for an educational workshop. We will be covering why to invest, what to invest in, how to invest, and where to invest to give you all the basics on how to begin to grow your savings.
---
Get information on identity theft trends and scams — and how best to defend yourself from them. See a number of ways you can further help protect your account, like 2-Step Verification at sign-on. Track your financial activity and also get notified
if someone is trying to sign on to your accounts. Learn how Wells Fargo secures your information and how to utilize this evolving technology.
Recorded Sessions
Financial health is learning new habits, saving for retirement, reviewing your insurance, managing your credit, and having a safety net. No matter where you are in life, you can benefit from improving your financial health. This workshop will provide ideas for how you can take simple steps to help you better manage your money today and save for long-term goals.
---
Knowing how to better manage your money so you can reach your goals may boost your financial confidence. In this workshop, you can learn about budgeting tips and tools that can help you take steps for setting goals and building your savings plan for reaching them. Budgeting and saving are all about setting financial goals, money management, creating a budget, and implementing your plan.
---
This educational workshop will be covering the five most common questions that need to be addressed to ensure you are prepared financially for retirement. Learn about the tools available to help you get started on a savings plan. Establish a savings plan based on how much you may need in retirement. Find out how to make small adjustments to spending that may provide big rewards over time. Learn strategies that can help you keep your retirement savings plan on track and streamline
your finances.