Wellness Warrior – July 2021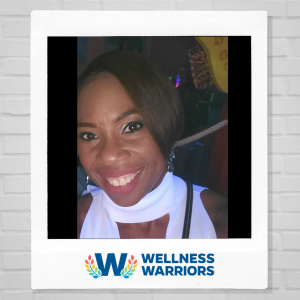 Sharon Milton-Simmons
Department:
College of Nursing
Years of Service:
37 years at UF
What are some of your favorite hobbies?
Cycling and daily gym work-outs
How do you live a healthy lifestyle?
I work out at the gym 5 days a week (occasionally twice a day) and 3-4 days of cycling also occasionally I jog and jump rope. I eat very healthy avoiding all processed foods and sugary drinks and candy. Fruits and vegetables are my daily meal plan with some type of protein.
What inspires you to make healthier choices and live a healthy lifestyle?
My true inspiration for my healthy choice is the fact that I feel great!
Do you have a success story you would like to share?
For years, I went to a gym faithfully 3 times a week to get in my cardio but 5 years ago, I got serious about my life because I was still overweight and desired to have a healthier lifestyle. That's when I found a coach and started attending the gym at least 5 days a week and sometime twice in one day. In July 2016, I ran into my friend at the gym and she asked if I was interested in participating in a ride at the end of the week she was hosting in Gainesville with a cycling group called Black Girls Do Bike – Jacksonville at the Gainesville-Hawthorne Trail (GHT). My first thought was the friend asked me because she saw me often riding the stationary bike at the gym but I did not realize a stationary bike and riding a bicycle on a trail are totally different. Even though I had never visit the GHT for all these years, this shouldn't be hard to do because I occasionally rode my beach cruiser up and down the streets in my neighborhood. As the days got closer to the event, I was getting excited and shared my excitement with my gym coach about riding my beach cruiser with some other women on the trail. The more we talked, the more my coach tried to convince me I could not ride the trail on a beach cruiser but I was determined all the way until the day before the riding event. The Friday before the event was my last conversation with my coach and that's when he finally convinced me I could not ride a cruiser. Less than 24 hours of meeting up with the group, I reached out to a member from my church asking if I could borrow her bike to ride in an event at the GHT on Saturday morning and she said yes. On Saturday July 23, 2016, I rode a borrowed bike wearing workout clothes (I didn't know cycling gear exist) and rode a total 20 miles on the Hawthorne-Gainesville trail that changed my whole life for the better. After the ride, I knew I found my love – CYCLING. By September 2016, I purchased my first road bike, Sarah is her name and she and I are still together. Since then, I have completed 3 century rides (100 miles each) and to this date, I have cycled nearly 8,000 miles in the last 4 ½ years.
I have completed many cycling events but the most memorable is the Clean Air Ride event in Inverness, FL in March 2018 when I completed my first century ride (100 miles) which took me 7 hours and 20 minutes. Actually, I have completed three centuries, two were training centuries and one was the event. I love telling people I've completed 100 miles and the big question to me is "you rode 100 miles on your bicycle in one day?" YES I DID!! 🙂
This year at the age of 56, I've decided to face another fear which is learning how to swimming. I'm currently taking private swimming lessons to one day complete a Triathlon.
Sharon Milton-Simmons has been dedicated to a personal fitness pathway over the past few years. She has become a long distance biker and has invited many colleagues to join her on shorter rides so that they can participate in a wellness activity. Even during the pandemic, Sharon kept up her riding regimen. In all, Sharon is an exemplar of adding a regular aerobic activity and inviting others to participate and "their" level.
---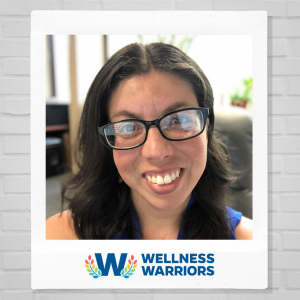 Vanessa Niblett
Department:
School of Landscape Architecture and Planning
Years of Service:
Almost 3 years in my current position and 5 years at UF.
What are some of your favorite hobbies?
Hanging out with my husband Kyle and our dog Griffey, watching baking shows on Netflix, reading, going to the movies, and getting creative with arts and crafts projects.
How do you live a healthy lifestyle?
I've been working out consistently for over a year now. Even if I take more days off from exercise one week, I get back to it; consistency has been the key.
Also making healthier food choices in general. It's not about a diet or trying to restrict my choices, but just being mindful of what I put in my body, how often I eat certain things, and the portion sizes as well.
What inspires you to make healthier choices and live a healthy lifestyle?
My inspiration/motivation was one of my close friends who was also wanting to be healthier. I've wanted to be healthier for a long time but could never stick to it. Starting it up was always the hardest part so having a friend to do it with was really key for me. I want to feel better about myself, to be healthier and stronger, able to do more without struggling, and give myself a better chance at a long life.
Do you have a success story you would like to share?
I've lost 21 pounds in the last year! I'm pretty proud of that, and I also just feel better overall. It's incredible what some consistent exercise can do for not just your physical well-being but also your mental and emotional well-being. It's definitely worth putting in the work.
As a student advisor, and a UF graduate student, Vanessa leads by example and inspires others to make healthy lifestyle choices. If she isn't standing at her desk doing routine stretches, you may find her walking the campus to capture its beauty through her camera lens. She has made huge strides in her own physical health over the past year by incorporating a 6-day physical fitness routine and welcomes questions on skills that helped her along the way.
Vanessa also has a wealth of knowledge of mental health resources that she discovered during her undergraduate studies in psychology. Vanessa attends Westside Baptist Church each Sunday and participates with weekly study groups.
Vanessa is a wonderful all-around leader in living your best life. A true wellness warrior and one of the kindest individuals within our Gator community.
---
The Wellness Warrior Award is a peer-nominated recognition of individuals on the UF-UF Health campuses who make strides to live better by making healthier choices. The award is an acknowledgment of the determination and dedication it takes to live a well and healthy lifestyle. Wellness Warriors are individuals who lead by example, encouraging those around them to also make healthier choices.
Nominate a colleague whom you feel is deserving of this recognition.