Wellness Warriors – September 2020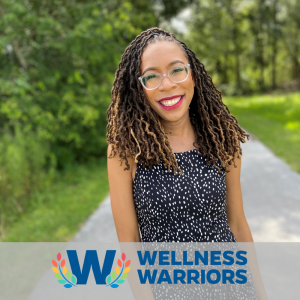 Name:  Daneen Johnson
Department: Career Connections Center
Years of Service: 2
What are some of your favorite hobbies?
kayaking, crafting, napping, playing my bass guitar, walking/reading on the beach, laughing, watching movies, and eating with family and friends
How do you live a healthy lifestyle?
My healthy lifestyle has revolved around my interest in gastronomy and love for seasonal fruits and vegetables. My passion for quality food started at a young age when I was determined to have my own show on the Food Network. I'm still working on that lifelong goal, but since then I've completed my undergraduate degree in Restaurant/Hospitality Management. Since food is meant to be nourishing, I'm really intentional about the foods I choose to nourish my body with. Although, treats are important too which is why I still enjoy crunchy chips and perfectly cooked fries. It's all about balance. I'm also known for finding ways to reduce stress and anxiety, so you'll often see me walking around campus, sipping huge cups of peppermint tea, encouraging someone else, or taking a moment to write down what I'm grateful for.
What inspires you to make healthier choices and live a healthy lifestyle?
Everyone has a unique health story, and mine consists of a chronic health issue that I've been actively trying to navigate and ultimate resolve. But, more importantly, I'm learning that being and staying healthy is a lifelong process so I'm committed to being and feeling my best. That requires some sacrifices, but the gains of feeling complete are well worth it.
 Do you have a success story you would like to share?
Over the past few years, I've been really international about focusing on my mental and physical health as well as balancing my personal and professional goals. I truly believe we all need a community to thrive and I'm grateful for my family, friends, and colleagues who have been integral to my growth. I encourage everyone to be intentional about who you bring into your corner because it is those individuals who can really help you and your health when you need it most. While I still encounter "health speedbumps", I can honestly say that I'm holistically doing and feeling better! My efforts over the past few years to invest in my health and stay connected to my community have been a blessing to experience.
---
Since I have met Daneen, she has championed wellness in every way and in almost every space. She embodies it and also encourages our office to make more mindful decisions. As the co-leader of our Wise and Well Committee, Daneen has introduced unique ways to help us stay accountable to our wellness choices. Usually, people think of wellness just in terms of physical wellness, but Daneen introduced us to the 8 Dimensions of Wellness and helps us to understand the holistic approach that is necessary as we pursue wellness as an office. Daneen is also very creative and artistic. She challenged herself to use art to motivate people towards wellness by sharing inspiration through an Instagram page. Daneen is so intentional about her choices and encourages all who interact with her to be mindful of their health and wellness. She does it with grace, humility, and positivity. She is a Wellness Warrior!
---
The Wellness Warrior Award is a peer-nominated recognition of individuals on the UF-UF Health campuses who make strides to live better by making healthier choices. The award is an acknowledgment of the determination and dedication it takes to live a well and healthy lifestyle. Wellness Warriors are individuals who lead by example, encouraging those around them to also make healthier choices.
Nominate a colleague whom you feel is deserving of this recognition.