Wellness Warriors – August 2020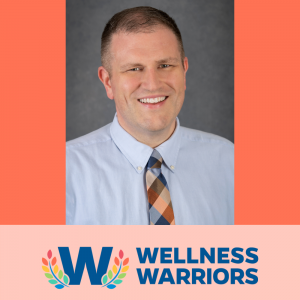 Name:  Jason Phenicie
Department: Advancement
Years of Service: 4
What are some of your favorite hobbies? 
I enjoy reading and spending time with my pets

How do you live a healthy lifestyle? 
Pre-COVID, I went to the gym five days a week (and can't wait to get back to that… once it's safe!) for cardio and weight training. Since the pandemic, I've tried to ride my bike several times a week, walk my dog at least daily, and use the dumbbells I luckily purchased a few months before COVID hit. I definitely am not where I currently want to with my fitness, but hope to ramp back up as the super-summer heat dies down.

What inspires you to make healthier choices and live a healthy lifestyle? 
A daily workout helps with my mood and overall mental wellbeing.
---
Jason's Nomination:
"Jason Phrenicie epitomizes the Wellness Warrior mindset. Every day, he gets to his office early, at 7:30 a.m., so he can head off right before noon in order to put in an hour at the gym, where he works out on the elliptical machine. I also belong to Planet Fitness, and I can tell you that he works up a sweat — he's not sitting there looking at his cell phone! It doesn't matter what the weather is or what's happening: Jason makes sure to go every day. I just learned that he has been doing this consistently "for five or six years." That is dedication.
He also eats well and abstains from diving in the many boxes of donuts that come our way in Advancement.
Jason's healthy habits have inspired me to go to the gym more often, and I sometimes join him on my lunch hour. It's great having him because I have my handy daily reminder to exercise, right there.
Thank you, Jason, for being Strategic Communication's Wellness Warrior!"
---
The Wellness Warrior Award is a peer-nominated recognition of individuals on the UF-UF Health campuses who make strides to live better by making healthier choices. The award is an acknowledgment of the determination and dedication it takes to live a well and healthy lifestyle. Wellness Warriors are individuals who lead by example, encouraging those around them to also make healthier choices.
Nominate a colleague whom you feel is deserving of this recognition.