Wellness Warrior – July 2020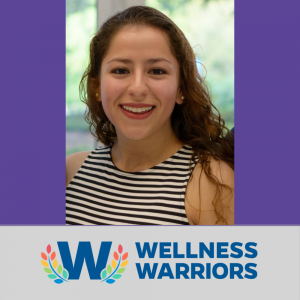 Name:  Rebeca Siguenza
Department: 5West – UF Health
Years of Service: 4
What are some of your favorite hobbies?
Reading nonfiction, historical fiction; avid podcast listener, usually investigative journalism
How do you live a healthy lifestyle?
I meal prep well-balanced meals (protein, fruits and vegetables, and a grain/ carbs); and I work out 4-5 times/week (walking around neighborhood and trails around Gainesville, pilates, and barre; strength training and HIIT; salsa dancing). I like to challenge my body in different ways and be in-tune with my body.
What inspires you to make healthier choices and live a healthy lifestyle?
The profession that I am in inspires me. I know that having a healthy lifestyle helps in preventing disease later in life, and I aspire to be a role model for my patients. It is also a great stress reliever for me as a bedside nurse and NP student. Exercise and a well-balanced diet help the body, soul, and mind.
---
The Wellness Warrior Award is a peer-nominated recognition of individuals on the UF-UF Health campuses who make strides to live better by making healthier choices. The award is an acknowledgment of the determination and dedication it takes to live a well and healthy lifestyle. Wellness Warriors are individuals who lead by example, encouraging those around them to also make healthier choices.
Nominate a colleague whom you feel is deserving of this recognition.